When I look at the Alien Skin community on Flickr, I see a great selection of portraits, but not nearly as many landscapes or wildlife images. As a traveling photographer who shoots a wide variety of subject matter, I wanted to show exactly how Exposure X has helped to improve my work. From color to black and white, I find the customization lightyears ahead of the alternatives. In this latest version, Alien Skin has really perfected their offering, creating a versatile photo editor that allows for standalone Raw editing. It has become part of my daily workflow. Finished images are rarely published before being run through Exposure. Here are some before and after examples.
1) Cityscapes – St. Peter's Basilica, Rome
For problematic shots, Exposure can really be a lifesaver. As you can see in the original, the image is lacking contrast, the color is off, and it's just well…dull. To bring it back to life, I opened it in Exposure, chose the color slide film type "Agfa RSX II 100" which did a nice job of adding contrast. Under the saturation section I boosted the midtones. This change added too much blue, but thankfully there is a slider for every color, allowing me to reduce the amount of blue. Then to warm things up slightly the Gold Split under the Split Toning menu made a slight change for the better. Then, to darken the corners and bring more attention to the subject I used the subtle black vignette. Finally, a hint of sharpening was added with "sharpen low radius 25". This all took a few minutes and as you can see, made a huge difference.
2) Wildlife – Black Skimmer
I love wildlife and bird photography, but let's face it, dropping six grand on a Canon 300mm f2.8 isn't necessarily in everyone's budget, including mine. One of the things that makes Exposure X such a versatile photo editor is that "Bokeh" is built into it. This allows you to create the background you want. You can literally pick the lens you want to mimic, and then shape where the bokeh falls. This provides an unreal level of power and control for wildlife photographers. Rather than letting a busy background ruin a good moment, you can adjust it accordingly. The only other changes made here was picking Kodachrome 64 for the slide film type, and a crop.
3) Landscapes – Fire Wave
The Valley of Fire is Nevada's oldest State Park. I went there to find and photograph this unique area called the Fire Wave. At the time of day I was there, the light wasn't spectacular with the whole scene a bit too pale for my liking. Still, I liked the photo enough and thought that I could rescue it with a versatile photo editor like Exposure X. I started by choosing Kodak Ektachrome 100G which added a good amount of saturation. The highlights were a bit pronounced so I dropped them by a half-stop. Then in the Tone Curve, I chose "Exposure (underexposed)" which really made the colors pop. Again I finished with a subtle black vignette.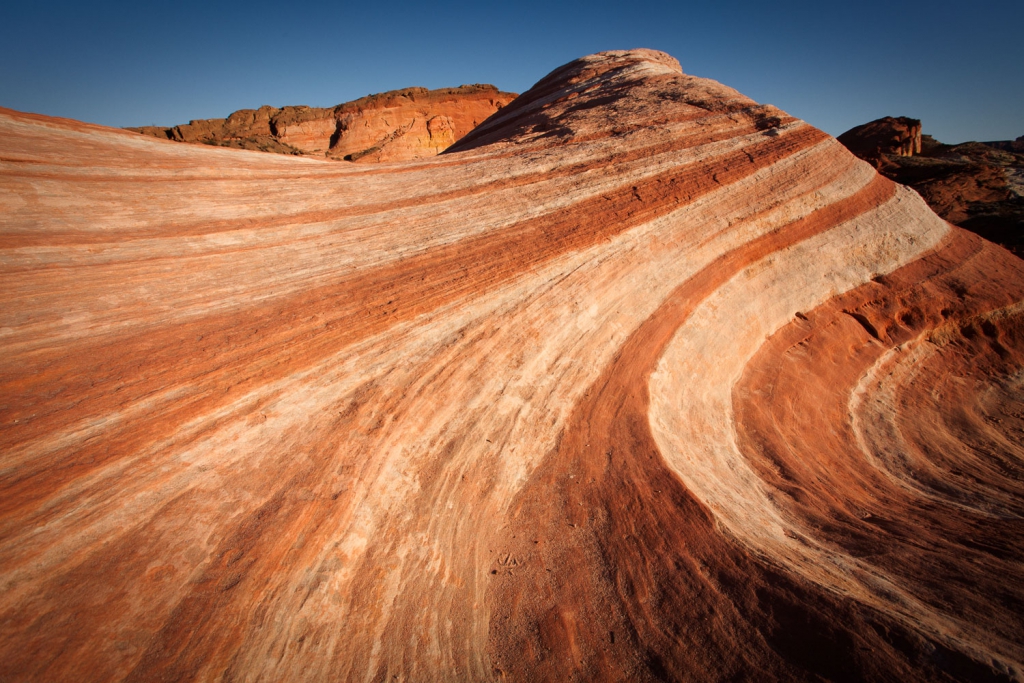 4) Fine Art – Motor Oil and Rain
When motor oil mixes with rain water it can create a spectacular array of colors. Photographically however, the scene typically lacks contrast. I brought this dull looking image into Exposure and worked its magic by choosing Fuji Velvia 50. This used to be one of my favorite slide films with its rich saturated colors. I bumped the exposure by about a half-stop to lighten up the colors. The next critical step was to add contrast, and a lot of it. I set this at +65. This made the blacks much darker and really made the colors more prominent. I played around with split toning and found that Sepia (blue finish) added a nice hue. The image was then finished with a vignette.
5) Faking the Sunset – Central Park
Sometimes all it takes is one click to dramatically alter an image in Exposure. Although the shot was taken at high noon, I was able to choose "Copper Tetenal" from the split toning menu. The resulting photo appears to have been taken at dusk. No other alterations were needed. As you can see, the editing capabilities of Exposure are profound. From complex edits to simpler adjustments, just about anything is possible with this versatile photo editor.
Exposure is the creative photo editor that gives you everything you need to create beautiful photos.
Try Exposure X4 free for 30 days, and discover a new world of creativity with gorgeous customizable looks and a complete set of editing and organizing tools.