I gathered up a few of my favorite Flickr online tools. They radically change the search and browse dynamic of the site for me, which makes things more fun.
If you're looking for a specific shot, this is the best tool that I've found for it. Start off by selecting an initial tag, then refine by adding more related tags from the list. It makes quick work out of browsing Flickr archives. I use this to see what people do with our software. Give it a try.
This app lets you explore images in a non-repetitive fashion. It builds an image from thousands of teeny-tiny images in just a few seconds. All of the resulting images are based on Flickr's tag cloud. Enter one of your own tags or try one from the provided list. Then, it's an ongoing exploration of colors, hues, and what's next. I promise you'll click more than a dozen times. It's hard to stop.
This is a fun way to explore your favorite spots. You can go to Hawaii, see the sights, and enjoy a sunrise on the beach- all from the comfort of your internet browser. Sure, it's not the same as the real thing, but it's a great way to scout out a new area when you're planning for a shoot or vacation.
This is a one-stop app for backing up your Flickr photostream. I don't know about you, but I'm a little skeptical about long-term storage on the cloud. The standard version of Bulkr is free.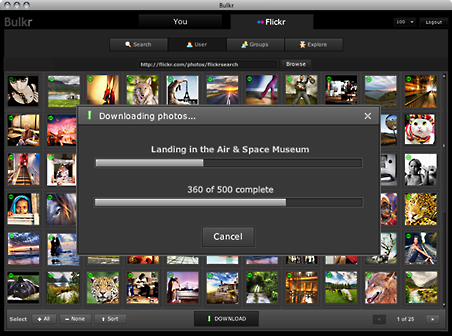 Combined with some basic knowledge of cameras, this tool is very powerful. You can generally define who shoots what with which camera model and much more. Here is a little bit of data gathered from a few minutes of searching.
More macro photos come from Canon users than Nikon.
On average users share more shots taken from their iPhone 4 than the other models.
Users shoot more B&W photos with a Leica M9 than with any other brand of camera listed.
Exposure is the creative photo editor that gives you everything you need to create beautiful photos.
Try Exposure X4 free for 30 days, and discover a new world of creativity with gorgeous customizable looks and a complete set of editing and organizing tools.